By Gwen Simmons
Colby and Jack (named after the cheese) are best buds who love to play and cuddle with their forever mom, Caitlin Green. They haven't always been so comfy, though. In October of 2012, while some brush had been burned in an alley, Caitlin noticed a tiny kitten running out of the pile. His hair was scorched, his whiskers were completely burned, and the pads of his paws were also burned. Caitlin carefully gave the kitten a bath and applied ointment to his paws.
The following day, another kitten emerged from the burn pile, but was in much better shape than his sibling. Caitlin took him in, too, carefully treating both kittens for their burns and fleas, and feeding them from a bottle.
Even though Caitlin became attached to the kittens, she decided that she would have to take them to a shelter so they could be adopted. She already had one cat and felt that was all she could care for at the time. But when the time came to take the kittens to the shelter, her plan was changed.
"Literally, the morning I planned to take Colby and Jack to the shelter," Caitlin shares, "I woke up to a blizzard! I took this as a sign I should be their forever mommy." Judging from the pictures, Colby and Jack are content with Caitlin's choice. Caitlin is too!
If you see animals that have been injured by accident or by abuse, please contact Furever Friends using Private Message on our Facebook page (FureverFriends8) or by email at info@fureverfriendsrescueofappanoose.org.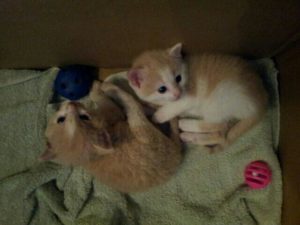 Colby and Jack were nursed back to health after the brush pile that was their home was set on fire.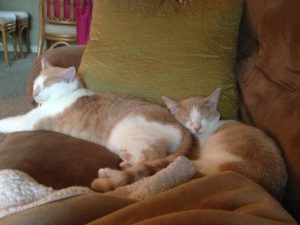 All grown up, these two litter mates are best friends.