by Gwen Simmons, Furever Friends Rescue Volunteer
Many animals have been rescued from Appanoose County, but would you like to meet the one that ultimately led to Furever Friends Rescue of Appanoose's creation?
Meet Cole, who is today healthy and obviously very happy. That wasn't the case two years ago.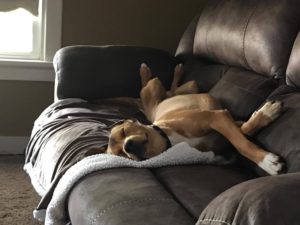 Back in 2016, Cole arrived at Appanoose County's pound, which at the time was at Sharon Bluffs. Tammy Cassady, a volunteer for Heartland Humane Society in Ottumwa, was called to check on this dog. Cole was very weak and couldn't stand well on his back legs.
Tammy immediately transported him to Heartland where they did an assessment. He was then sent to a veterinarian in Ottumwa. It was decided that Cole would need surgery to repair his legs. Tammy comments that when Cole was picked up, he didn't whimper even though he had to be in pain. As is so often the case, Cole just seemed to sense that he was being cared for and cooperated with his rescuers.
Heartland sold t-shirts to raise money for Cole's surgery. After the surgery, he was placed in a loving foster home. Later, he was adopted by his foster parents!
This was the first "rescue" call Tammy received. After that, she found herself more and more involved with rescue and, late in 2016, County Supervisor Mark Waits connected her with another animal advocate. They were quickly joined by others and the effort to build a local shelter began. Furever Friends Rescue of Appanoose, Inc. was formed as a no-kill, non-profit charity in 2017.
When asked why she spends 15-20 hours per week volunteering to help animals after working full time, Tammy says, "Three years ago, I went to the shelter and fell in love with my own rescue dog. That love has taken me back there over and over to help the rest of the animals. I can't take them all home, but I can help find them homes."
You can help, too, when you see a dog or cat lost, abandoned or neglected. Here are some ways you can get involved:
Report abuse to the police
Contact Furever Friends Rescue or send us a Facebook message
Become a foster home
Become a Furever Friends Rescue sponsor and help accomplish the goal of opening a rescue site in Appanoose County